2021 commemoration, Wednesday 24th November: Remembering the men of HMS Dunedin.
On a beautiful clear day at the Royal Naval Memorial, Southsea, members of the Dunedin Society gathered to honour the men of HMS Dunedin, eighty years after she was sunk. Click here for our account of the day's events, including on the story of HMS Dunedin, our new relationship with our sister USS Indianapolis organisation and a well-deserved vote of thanks to Mrs Anne Randall.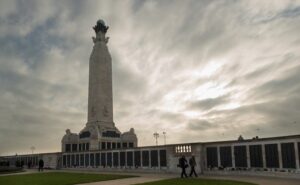 Stuart Gill OBE, HMS Dunedin Society

The memory of the men of HMS Dunedin lives on.
---
Join Us
If you would like to join the Dunedin Society please-mail us here with your name and the name of the member of the ship's company to whom you are associated. Please also let us have any information that you would like us to put on the website about your member of the ship's company. It will form part of this permanent memorial to all the men who were part of HMS Dunedin.
Membership is entirely free, although, of course, we always welcome any donations you would like to make.