Welcome to the website of the HMS Dunedin Society.
The Dunedin Society is our collective organisation designed to keep alive the memories of HMS Dunedin and her men. It is entirely voluntary and free to join and its membership is worldwide. The society organises commemorative events, including the annual 24th November ceremonies. If you wish to find out more or have any information about HMS Dunedin that we could publicise on our website please Contact Us.
This year's Reunion and Memorial Service took place on Friday 24th November at the Royal Naval Memorial, Southsea Common, and simultaneously at the National Memorial Arboretum in Staffordshire. For details (and first photos) of both events, click here.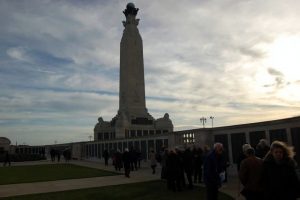 Don't forget to check out the photos of last November's 75th Anniversary. There's a lot to see now. Click here to see them.
Commander Thomas (Tommy) Handley
It is with much regret and sorrow to report that Commander Thomas (Tommy) Handley, RN (Rtd) died, aged 94, on 23rd June. He passed away in Dartmouth peacefully in his sleep, much loved husband of Elizabeth and father of Christina, Stephen and Jonathan. Tommy joined HMS Dunedin in October 1940 and stayed with her until just before her final voyage, on 18 November 1941, when he left to join HMS Vansittart. The Dunedin Society sends its condolences to Tommy's family.
A service will be held at St Saviour's Church, Dartmouth, on 18th July at 2.00pm. Family flowers only. All donations to Dartmouth Caring. Enquiries to RC Pillar and sons Ltd, Anzac Street, Dartmouth TQ6 9DL, 01803 832121.
Happy 98th Birthday to our President, Jim Davis, 21st March 2017!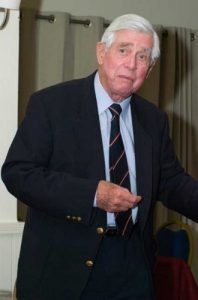 Jim Davis is one of the original four survivors who founded the Dunedin Society and he has been a dominant force behind the Society to keep the memories of his lost comrades alive. Jim joined HMS Dunedin in Scotland in 1939 and served in her on the Northern Patrol, in the Caribbean and the South Atlantic. When the first of two torpedoes hit Dunedin on 24th November 1941, Jim was reading a book on deck. Blown to the floor by the explosion, he made his way to a Carley raft and was rescued, along with the few other survivors, by the crew of SS Nishmaha on 27th November.
Jim went back to sea after returning to Britain and, in one of life's great ironies, he was serving in HMS Stonecrop in April 1943 when she encountered and sank U-124, the U-Boat which had sunk HMS Dunedin.
We all wish Jim a very happy 98th birthday.
75th ANNIVERSARY MEMORIAL SERVICE AND REUNION:
THANK YOU TO ALL THOSE MEMBERS OF THE DUNEDIN SOCIETY WHO CAME TO THE MEMORIAL SERVICE AND REUNION ON 24TH NOVEMBER MARKING THE 75th ANNIVERSARY OF THE SINKING OF HMS DUNEDIN. CLICK HERE FOR THE LATEST REPORT AND A FEW MORE PHOTOS.

AND DON'T FORGET:
PLEASE SEND ANY PHOTOS AND TEXT YOU WOULD LIKE TO SEE ON THE WEBSITE. THIS IS YOUR CHANCE TO ENSURE THE MEMORY OF YOUR MEMBER OF THE SHIP'S COMPANY IS KEPT ALIVE ON THIS SITE.
In the meantime, new material continues to come to light from time to time, as some of you will have seen at last November's reunion. This material is available here and includes an article on the sinking and the rescue of the survivors, together with new documents not previously published.