Welcome to the website of the HMS Dunedin Society.
The Dunedin Society is our collective organisation designed to keep alive the memories of HMS Dunedin and her men. It is entirely voluntary and free to join and its membership is worldwide. The society organises commemorative events, including the annual 24th November ceremonies. If you wish to find out more or have any information about HMS Dunedin that we could publicise on our website please Contact Us.
Jim Davis
It is with deepest regret that we report that Jim Davis died, aged 98, on 17th December 2017 at Badger's Wood Care Home, near his home in Norwich. Our heartfelt sympathies and condolences go to his family.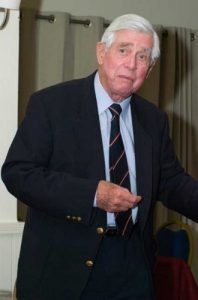 Jim's funeral took place at 1415 on Thursday 11th January at Earlham Crematorium, 193 Earlham Road, Norwich NR2 3RG. A short cremation service followed with the Norwich Naval Association and with full Naval Honours, Standard Bearer and Bugler. A memorial service took place at 1500 at Norwich Central Baptist Church, Duke Street, Norwich NR3 3AP. Both services were conducted by the Minister, Mark Fairweather-Tall.
Jim's family has asked that donations in memory of Jim should be made to the RNLI. You can go straight to Jim's page here
As one of the original four survivors who founded the Dunedin Society, Jim was a dominant force behind the Society to keep the memories of his lost comrades alive. He was present at the very first Dunedin Reunion, in 2001, and was very much a permanent fixture of almost every Dunedin event until his death. Jim was much loved by all Dunedin Society members and he will be remembered for his wonderful story-telling and – at times – his endearingly irreverent reminiscences! We all miss him.
Jim joined HMS Dunedin in Scotland in 1939 and served in her on the Northern Patrol, in the Caribbean and the South Atlantic. When the first of two torpedoes hit Dunedin on 24th November 1941, Jim was reading a book on deck. Blown to the floor by the explosion, he made his way to a Carley raft and was rescued, along with the few other survivors, by the crew of SS Nishmaha on 27th November.
Jim went back to sea after returning to Britain and, in one of life's great ironies, he was serving in HMS Stonecrop in April 1943 when she encountered and sank U-124, the U-Boat which had sunk HMS Dunedin.
So, farewell Jim, or – to give you your full name – Ronald Henry Davis. You are greatly missed, but you have left us with such precious memories and you still bring a smile to our faces.