The Dunedin Society is our collective organisation designed to keep alive the memories of HMS Dunedin and her men. It is entirely voluntary and free to join and its membership is worldwide. The society organises commemorative events, including the annual 24th November ceremonies. If you wish to find out more or have any information about HMS Dunedin that we could publicise on our website please Contact Us.
---

2021 commemoration, 24th November: remembering the men of HMS Dunedin.
This year marks the 80th anniversary of the sinking of HMS Dunedin and the loss of all but sixty-seven of her men. In the hope that members of the HMS Dunedin Society can once again gather for an act of remembrance, on or around 24th November, we are turning our minds to what might be possible at the Royal Naval Memorial, Southsea, and at the National Arboretum in Staffordshire. Please keep checking here for updates, but in the meantime stay safe and let's hope we can soon put the pandemic behind us.
Best wishes to you all.
Stuart Gill OBE, HMS Dunedin Society

The memory of the men of HMS Dunedin lives on.
---
Join Us
If you would like to join the Dunedin Society please-mail us here with your name and the name of the member of the ship's company to whom you are associated. Please also let us have any information that you would like us to put on the website about your member of the ship's company. It will form part of this permanent memorial to all the men who were part of HMS Dunedin.
Membership is entirely free, although, of course, we always welcome any donations you would like to make.
---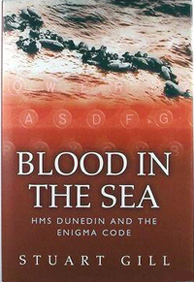 Blood in the Sea: HMS Dunedin and the Enigma Code", published in 2003, is the only book on HMS Dunedin. Click here to preview and buy
---