Since its dedication on 26 July 2003, the Dunedin Memorial plinth at the National Memorial Arboretum has provided a lasting tribute to the men who gave their lives when HMS Dunedin was sunk in 1941.
The National Memorial Arboretum, 26th July 2003
Alrewas, Staffordshire
Dedication of the HMS Dunedin Memorial Plinth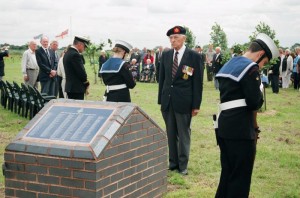 Nearly two hundred members of the Dunedin Society gathered at the National Memorial Arboretum on 26th July 2003 to dedicate the HMS Dunedin Memorial plinth and oak. When a crowd this size congregates to mark an event that took place more than sixty-two years ago, one knows that something special has taken place. And so it was at the Arboretum in Alrewas, Staffordshire, where the memory of HMS Dunedin and the men who served and died in her was given a fixed and lasting tribute for future generations to visit.
For details of the Arboretum go to the National Arboretum Memorial web site .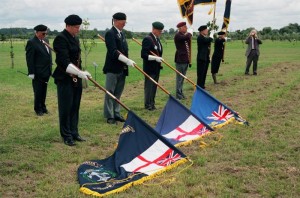 The Arboretum is young, spread over a vast open field spotted with saplings no more than a few feet high. Stand at one end of its 150 acres and you can see clear to the other side. This wide open view will change with the seasons and the years as the Arboretum turns into a forest of dedication to the men and women who died so that we might live.
On 26th July, the young and the old – sons, daughters, grandsons, granddaughters, brothers, sisters, wives, nephews and nieces of the ship's company, and the four known living survivors – witnessed and participated in the dedication ceremony. The Service was led by Cdr David Childs and included an honour guard of Sea Cadets and the Royal British Legion, a piper and a Royal Marine bugler. With the weather forecasters predicting wet and windy conditions everyone was relieved to get through the day without a single drop of rain.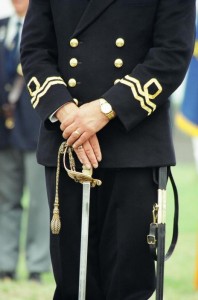 No report of the day's events can go without a mention of Bas Bowyer – the brilliant Bas Bowyer – who conceived, planned and masterminded the whole show. We owe our thanks to him for doing such a fantastic job. Our heartfelt thanks go also to the many people who donated funds so that the day could go ahead.
We now have a permanent memorial to the men who died in HMS Dunedin.
Please take a look at the Memorial Galleries.
For details of the Arboretum go to the National Arboretum Memorial web site  (click on the leaves and go to 'Visitor Information' for details of how to get there);