Gaisford, William (Bill) George: Stoker First Class, MPK
Bill Gaisford's nephew, Rob, has kindly provided the photos on this page and the following background:
Bill was just 21 years old when he lost his life in this tragic incident. He worked as a mineworker in his home village of New Tredegar before enlisting. My grandfather who volunteered and survived WW1 did not want Bill to go to war. He knew first hand the horrors of conflict. Bill though was determined to sign up. He persuaded a relative to fatefully sign his enlistment papers without my grandfather's knowledge or consent.
Ironically, the mines were designated a reserved occupation a short time after Bill joined the Navy. He wanted to make a career in the Royal Navy and was quickly promoted to Stoker First Class.
His loss had a profound effect upon my father and my grandparents. My grandmother in particular found it to difficult to accept his loss. Having no grave or memorial service exacerbated the pain.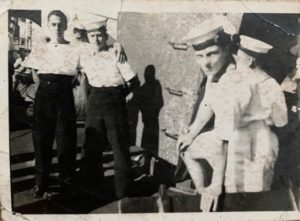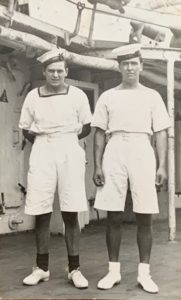 August 2023: Rob has very kindly supplied a copy of a letter sent by his uncle in 1941, which his family have kept ever since. It gives us a fascinating glimpse into the mind of one of the crew members. He's missing home and his family and not having any good times, but – as he puts it – "we can take it". Our thanks to Rob for sharing this with us.