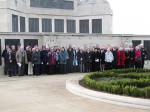 Around fifty members of the Dunedin Society gathered at the Portsmouth Naval memorial, in Southsea, to commemorate the seventieth anniversary of the sinking of HMS Dunedin.
Click on the thumbnail for a larger image of the group:
Portsmouth News
Here is all the Portsmouth News coverage, including correspondence in the days following the reunion.
Portsmouth Evening News preview
Portsmouth Evening News initial report
Portsmouth News 25th November 2011 (click on thumbnail below for bigger image)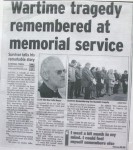 Portsmouth News correspondence
On 29th November, a letter appeared in the Portsmouth News headlined "The Men of Dunedin were Abandoned" from Mr John Boxall (far left, below), followed by a response from Mr Allan Chamberlain. Unfortunately, Mr Boxall's letter was inaccurate and gave an incorrect account of Admiralty actions in the immediate aftermath of the sinking. The men of HMS Dunedin were not "abandoned" by the Admiralty and the third letter, far right, by Stuart Gill, sets the record straight. Click on the thumbnails for bigger images.
See also the Otago (New Zealand) Times article