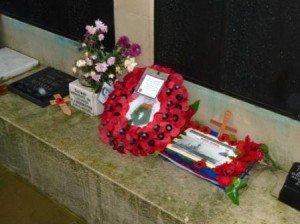 Members of the Dunedin Society braved torrential rain and wind on 24th November to mark the anniversary of the sinking of HMS Dunedin and to remember the men who were lost. At the Portsmouth Naval War Memorial on Southsea Common, Reverend Colin Noyce conducted the ceremony in one of the sheltered areas at the end of the memorial wall. We were honoured to be in the presence of two of our survivors, Jim Davis and Andrew (Boy) McCall. Unfortunately, President of the Society, Bill Gill, was not well enough to make the journey, but his two sons, Michael and Stuart, laid the Dunedin wreath on his behalf. Then, in the continuing rain, the group moved briefly to the wall for the wreath-laying before gathering at the Royal Maritime Club.
After lunch, nearly fifty members watched a DVD of the Survivors' Interviews made last year. They were also able to look round the comprehensive photo display and information, reports and logs, and artefacts (see the photos below).
Twenty people stayed on for dinner, which was particularly good this year. The service was great and the carvery and menu were excellent – in fact, the food was the best ever! Our two survivors for the evening, Jim and Boy McCall, sat together, chatted away and reminisced.
Many, many thanks go to David Allen for organizing this year's event, especially in the worst weather the Dunedin Society has ever experienced at the annual commemoration. Thanks go, too, to Bas Bowyer and his family for remembering the men of HMS Dunedin at the Dunedin Memorial Plinth at the National memorial Arboretum.

Click on the images below for larger photos of the picture boards on display