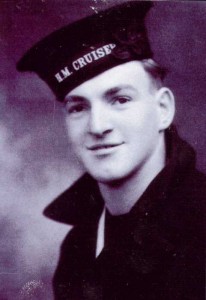 Biographical Notes
Stoker Ling joined the Royal Navy at the outbreak of war and was 23 when he was killed.
He was originally a Bernardo's boy from London but went to live with a family called Weaver on their farm at Whychurch near Malmesbury when he was in his teens.
His name never appeared on the war memorial in Malmesbury however the Royal British Legion decided to pay for a chair in the National Memorial Arboretum in Staffordshire in his memory. The chair bears a brass plate with the words "Stoker Reuben Ling, a Barnado boy from Malmesbury – HMS Dunedin 1941"
Not all men who joined up from Malmesbury had local family connections.
There could well have been one more name on the Memorial Gates. Before the war, a young orphan boy from Dr Barnardo's home in Bristol, Reuben Ling, was given a home by the Weaver family of Whychurch farm, Reuben became part of the family. His only relative was an elder brother living in London. Kathleen Blanchard (née Weaver) told me when she was very young she thought he was a brother. A devout Christian Reuben attended Services in the Abbey every Sunday. At the outbreak of war he joined the Royal Navy and became a Stoker First Class, P/KX 103727.
He served on H.M.S. Dunedin, a 'D' class cruiser. On the 24th November 1941 the German submarine, U-124 torpedoed and sunk the Dunedin in the South Atlantic.
Reuben's name is on the Portsmouth Navy Memorial, Panel 55, Column 2, with the rest of his ship mates. He was not thought to be a Malmesbury boy. When we visited this Memorial, my wife and I laid a Poppy wreath on behalf of the Weavers. They never forgot him.
Each year at the Remembrance Service in Malmesbury Abbey, his name is read out with the others.