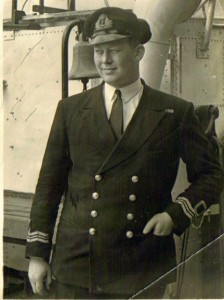 Lt Ascoli's son, John, wrote the following biography of his father:
Lt Cdr H E ASCOLI DSC RNVR
Hugh came down from Oxford in 1935 and for a short time followed his father, a Director of Dunlop Rubber, into the firm prior to embarking on his career in insurance and shipping.

1939 found him in the USA on business. Keen to get home to England he sailed from New York aboard the Cunard White Star liner Carinthia where he carried out voluntary look- out watches during a somewhat anxious voyage across the Atlantic

Having considerable sailing experience, including racing Dragons and crewing in at least one Fastnet race aboard the Jolie Brise, he joined the navy and passed through King Alfred as a Temporary Sub Lieutenant RNVR The day he left coincided with the first day of Dunkirk. Ordered to take over a Dutch skoot, he spent the following days evacuating troops from the beaches of France. This was followed by time in HMS Impulsive and HMS Alresford prior to his appointment to HMS Dunedin. He joined her at Portland in March 194las a Lieutenant.

Incurring concussion and injury to a knee and ankle, he was invalided off the ship very shortly before Dunedin sailed from Freetown for what was to be the last time in November 1941. The family was unaware of this and not being listed amongst the survivors feared that he had been lost. Fortunately fate had played a hand and he turned up safe in England. I can remember him recovering at home in Sussex after, according to my mother's diary, an operation in the January.

Hugh's next appointment was to Combined Operations as Executive Officer at the training base HMS Northney 111 on Hayling Island. In turn this led him into Coastal Forces where, to his joy, he spent the rest of the war. After a few months as a First Lieutenant he was appointed to stand by as commanding officer to MTB 704 in build at Silver's yard at Rosneath ,Scotland. 704 was a 115′ D class Fairmile of 105 tons powered by four Packard high octane fuelled petrol engines , each of 1250hp,to give a top speed of 30 knots. Heavily armed, she carried a complement of 30.

As part of the eight boat strong 63rd flotilla there followed months of actions in the Channel. For D Day 704 was attached to the Western Task Force under Admiral Kirk, aboard USS Augusta.. In September 1944 Hugh was promoted Lieut Cdr and became Senior Officer of the 52nd flotilla at Dartmouth. This was followed by his appointment as Naval Control Officer RAF 524 squadron, Coastal Command, Langham., where he vectored Coastal Forces and frigates on to the enemy from a specially equipped Wellington bomber. 704 survived the war and was transferred to the Norwegian navy at the end of hostilities. Ten years later I spent the bulk of my National Service in Coastal Forces as a Midshipman RNVR in an identical boat!.
On May 13 1945 he sailed from Felixstowe with a group of Flotilla Senior Officers and other Coastal Forces officers to witness the surrender of German E boats. There, Hugh boarded S 205 and replacing the German flag with the white ensign, assumed command. As her new CO he spent the ensuing weeks sailing her to various ports around the coast and to London where the boat received scores of visitors from military and political circles as well as technicians eager to examine one of the surrendered boats. [ I still have the original log / visitors book }

Hugh finally left the navy in early 1946. and was elected to Lloyds as a Member and underwriter. In addition to being a Director of a shipping and other companies , he remained an underwriter for many years and was still a Member when he died in 1993. Apart from his family, the sea was his greatest love. His wartime experience – much of it learned in Dunedin – and love of "messing about in boats" – never left him and right up until his early seventies we cruised together on the south coast and to France and the Channel islands in a motor cruiser we co-owned.