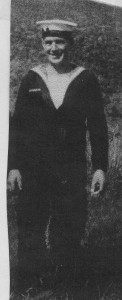 William Hunt served in HMS Dunedin whilst she was part of the New Zealand station, from 10 May 1924 to 26 Jan 1925 and again from 29 May 1934  to 8 June 1935. He had two brothers, George and Fred.
The following is an extract of an e-mail from me (Stuart Gill) in June 2007 to Patricia Louden  (née Hunt), William Hunt's daughter:
I am guessing that your Dad was based in or near Auckland because the dates you mention mostly tie in with Dunedin's time there.

Although Dunedin was a ship of the British Royal Navy, she served many of the inter-war years in the New Zealand Navy before returning finally to the UK in 1937. Indeed, the formal date of transfer to the NZ Division was 10 May 1924, the day your Father joined her. She had arrived in Dunedin (fittingly!) on 30 April 1934 before moving on to Auckland. My records show that she sailed from Dunedin on 9 May, arriving in Auckland on 11 May, so technically – according to the dates in your e-mail – your father joined while HMS Dunedin was still at sea. Unless he joined in Dunedin. Perhaps he was officially assigned to HMS Dunedin on the 10th even though she didn't arrive until the following day.

Dunedin sailed – with your Father – from Auckland on 16 June and embarked on what looks like a wonderful cruise, taking in Samoa, Suva, Fiji and Australia, before returning to Auckland five days before Christmas 1924. Your Father appears to have finished his first stint with Dunedin the day before she sailed again from Auckland.

By the time your Father re-joined Dunedin in May 1934, she had been back to the UK for a major refit. At this time she was again in Auckland, from where she sailed on 15 June 1934. It looks like she had another great time, taking in Suva, Papeete, Raiatea and back to Auckland again. In my book "Blood in the Sea" I described Dunedin's time on the NZ station as "rich adolescence of sun, clear water and ceremony. Her job – to show the British flag in the Pacific and Australasia – was done with pomp, panache and efficiency". I am sure that is a dreadful paraphrase of what really went on but it sounds like your Father would have had a wonderful experience!

Dunedin arrived back in Auckland on 22 December 1934, where – according to my records – she stayed until 6 June 1935 after another refit. My records show that Dunedin arrived at Norfolk Island on 7 June, departing on 11 June for Suva, three days after – according to your records – your Father completed his time on board HMS Dunedin.