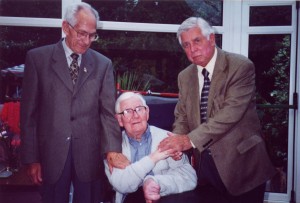 Biographical Notes
Joined in 1939 in Scotland. Served on Northern Patrol, in Caribbean and Atlantic. Jim shared a raft with Petty Officer Butler, Able Seaman John Miles (pictured above, seated between Jim on the right and Bill Gill on the left), and Able Seaman Harry Cross. Their raft was the second or third one to be rescued by SS Nishmaha. See also Rafts and Rescue.
Jim is currently the President of the Dunedin Society.
On return from Bermuda in 1940, one of Jim's comrades gave him a poem that he had written, called No Regrets. Click here to see a copy of the original, but the text is reproduced below:
No Regrets

We've left the blazing tropics, left the heat behind,
Left the sweat and safety, for the travail of our kind,
We've parted from the romance, that tended us awhile,
Headed for our native land, that's fighting Hitler's guile.

Prickly heat has irked us and 'dhobie itch' as well,
Without a 'rubber seaboot', we've worried more than hell.
'Roaches marched in thousands, then called on thousands more,
While flies settled on our carcase in groups of several score.

We'll miss our grapefruit breakfast and 'nanas' for our tea,
Miss the swims and beaches, and the flying-fish at sea,
Miss the 'whites' to swank in, mourn the iced drinks,
And some will miss the 'Colonel' who stutters now methinks.

For the ark of stars is waning, and the moon has drawn her veil
And breathless nights now mock us, as we dare Atlantic's gale.
The temperature has fallen and we swap our fans for fires,
Yet still our pulse runs strongly, for Britain's need is dire.

So all regret is but a phrase, we're stronger than our fate,
Our Island Home demands us back, the swines are at our gate.
We go without a coaxing, we've wished it all along,
We're going back to Britain to swell the Victory song!!!!