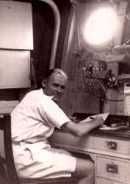 Biographical Notes
CPO Vic Rutland joined the Royal Navy in the Medical (Sick Berth) branch in the early 1920s. In approximately 1931/32 he was posted for a three year commission on board HMS Revenge, after which he served in HMS St Vincent (Gosport, Hants). From here he was posted locally to RN Hospital, Haslar.
In 1936/37 he was sent to RN Hospital Bighi, Malta.
On his return he was posted to MMS Dunedin, on which he served till her sinking in 1941.
He left behind his wife and two sons.